---
RG MEDICAL SYSTEMS & SERVICES is a Complete service Centre of Medical Equipments in Aligarh.
---
571 2417057
Hospital & Doctors
Dr. Tanmay Shekhar & Dr. Rupali Shekhar

9045305169, 9045305170
Sasni Gate, Agra Road, Aligarh, 202001
Lap Chole, PCNL, URS, CLT, TURP, VIU, TURBT, VH, LAVH, NDVH, LAPROSCOPY AND HISTROSCOPY, NORMAL DELIVERY AND CIGERIAN DELIVERY, HERNIA, APPENDIX, COMPUTERIZED FRACTURE CHECKUP AND OPERATIONS.
9760102045
Hospital & Doctors
Dr. Bashir Rais Khan

8791861700
Near Civil Lines Thana, Dodhpur, Aligarh
All type of Surgeries like Hernia, Hydrocool, Appendix are done at City Hospital
Hospital & Doctors
Prof.Ashraf Malik

9837007606
Infront of University Swimming pool shanshad market Aligarh U.P 202001
AL-SHIFA CLINIC is a Multi specilaist clinic and a Consultant Pediatrician.
0571-645-0-645
Hospital & Doctors
Dr.N.B.Singh

92191-92191
V P Dental Implamt Centre: Infront Of Malkhan Singh District Hospital Second Gate,Rasal Ganj,Aligarh
Specialist In Dental Implant ( Fixed Tooth Direct Into Bone ) Root Canal, Crown & Briges.
Hospital & Doctors

+91 9837227670
Indrapratha Estate, Close to KK Hospital, Ramghat Road, Aligarh - 202001, U.P, India
Laser Therapy, Laser For Hair Removal, Eyelid Correction, Thick Lips Correction, Liposuction, Hair Transplant
571 2742500
Hospital & Doctors
Dr. Virendra Chowdhry

9412275222
Shanti Nursing Home, Ramghat Road, Aligarh 202001 (U.P)
Formerlly Orthopedics Surgeon: Christian Medical College Ludhiana. | Sir Ganga Ram Hospital New Delhi | MBBS (pb) M.S Orthopedics
571 2421421
Hospital & Doctors
Dr. G.P Varshney (Surgeon) M.B.B.S, M.S

9837156291
Chauraha Masoodabad, G.T Road, Aligarh 202001 (U.P)
CONULTANT, GENERAL SURGEON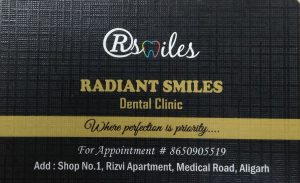 8650905519
Hospital & Doctors
Dr.Arina Arif (B.D.S.,M.D.S.) Root Canal Specialist

8650905519
Shop No.1,Rizvi Apartment,Medical Road,Aligarh
Dr.Arina Arif Is an Endodontics (Master in Root Canal Treatment) *Tooth Color Fillings *Pedocare *Braces *Crown Frame Works *Veneers *Root Canal Treatment *Dental Implants *Denture *Bleaching
0571- 2905700
Hospital & Doctors
Mr. Raj Kumar for Dr. Ravi Gupta / City Dentist

9410692111, 827333189
Opp. Chiranjilal Girls College, Agra Road, Aligarh (U.P)
All dental procedures under one roof.
+91 9458402338
Hospital & Doctors
Dr. (Major) Gaurav

+91 9458402338
Mahavir Complex, Center Point, Station Road, Aligarh - 202001, U.P, India
Consultant Dental Surgeon