---
PHYSIOTHERAPY CLINIC : Qualified & Experienced from JN Medical College, AMU Aligarh and Delhi
---
9917245373
Hospital & Doctors
Mr. J.P Sharma

9891908619
1/28, J/361, Gali No.2 Govind Nagar, Sanjay Gandhi Colony, Aligarh, 202001 (U.P) - INDIA
A.K MEDICAL SYSTEM is a complete service centre of Medical Equipments (Medical Surgical Physiotheraphy)based in Aligarh.
0571- 2905700
Hospital & Doctors
Mr. Raj Kumar for Dr. Ravi Gupta / City Dentist

9410692111, 827333189
Opp. Chiranjilal Girls College, Agra Road, Aligarh (U.P)
All dental procedures under one roof.
Hospital & Doctors

9756308840
Hathi wala Pul, Baniya Pada, Aligarh - 202001, U.P, India
9286505214
Hospital & Doctors
Dr. Dietitian Zareen Kazmi
Kamthania Builidng, Opp. Sobhagya Mandap, Laxmi Bai Marg, Ramghat Road, Aligarh, 202001 (U.P)
Rannz Diet Clinic helps in Diet Treatment for all types of Diseases, Diabetic, Obesity, Osteoporosis, Hypertension.
0571- 2402696
Hospital & Doctors
Dr. Bharat k. Varshney ( M.B.B.S, MD, (pathology)

9927054048
Ramghat road, Aligarh
diagnostics, pathology, thyroid, health check up, blood
8979298092
Hospital & Doctors
Dr. Khan Wasique
17-19 Muzammil Complex, Dodhpur, Aligarh 202001
Child Care and Vaccination Clinic
9411413832
Hospital & Doctors
Mr.Rajat Gupta

9690489638
Clinic:- Gupta Eye Care Centre,Opp. Gandhi Eye Hospital, Ramghat Road Aligarh. 202001 U.P.
Gupta eye care centre is a consultant Opthalmologist & Phaco Surgeon as well as Opthalmologist,Cataract Surgery & Glancoma,
571 2421421
Hospital & Doctors
Dr. G.P Varshney (Surgeon) M.B.B.S, M.S

9837156291
Chauraha Masoodabad, G.T Road, Aligarh 202001 (U.P)
CONULTANT, GENERAL SURGEON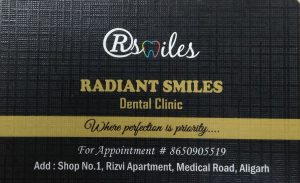 8650905519
Hospital & Doctors
Dr.Arina Arif (B.D.S.,M.D.S.) Root Canal Specialist

8650905519
Shop No.1,Rizvi Apartment,Medical Road,Aligarh
Dr.Arina Arif Is an Endodontics (Master in Root Canal Treatment) *Tooth Color Fillings *Pedocare *Braces *Crown Frame Works *Veneers *Root Canal Treatment *Dental Implants *Denture *Bleaching
571 2742565
Hospital & Doctors
Mr. Pancham Lodhi, Mr. Ashok Pachuri

9756662222, 9358663925
3/3B, Purani Chungi, Near Prakash Lodge, Near Ramghat Road, Aligarh - 202001
Surgical Equipments, Dental Product, Hospital Sandries: Sales & Services
| | |
| --- | --- |
| Contact Person | Dr. Nadeem Ahmad |
| Address | Chandania House Samad Road, Center Point |
| Category | Hospital & Doctors |