---
Physician,Clinical Immunologist & Rheumatologist
---
9897293957
Hospital & Doctors
Dr. Rajesh Agarwal
Baba Market, Kishanpur Tiraha, Ramghat Road, Aligarh, 202001 (U.P)
Dr.Agarwal is an expert in Physiotherapy & Pain.
9897244954
Hospital & Doctors
Dr. Manish Singhal

9045049419
IT Plaza, Diggi Road, Near Quality, Aligarh - 202001, U.P, India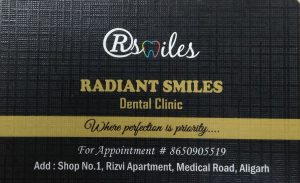 8650905519
Hospital & Doctors
Dr.Arina Arif (B.D.S.,M.D.S.) Root Canal Specialist

8650905519
Shop No.1,Rizvi Apartment,Medical Road,Aligarh
Dr.Arina Arif Is an Endodontics (Master in Root Canal Treatment) *Tooth Color Fillings *Pedocare *Braces *Crown Frame Works *Veneers *Root Canal Treatment *Dental Implants *Denture *Bleaching
0571- 2905700
Hospital & Doctors
Mr. Raj Kumar for Dr. Ravi Gupta / City Dentist

9410692111, 827333189
Opp. Chiranjilal Girls College, Agra Road, Aligarh (U.P)
All dental procedures under one roof.
0571- 2402696
Hospital & Doctors
Dr. Bharat k. Varshney ( M.B.B.S, MD, (pathology)

9927054048
Ramghat road, Aligarh
diagnostics, pathology, thyroid, health check up, blood
571 2421421
Hospital & Doctors
Dr. G.P Varshney (Surgeon) M.B.B.S, M.S

9837156291
Chauraha Masoodabad, G.T Road, Aligarh 202001 (U.P)
CONULTANT, GENERAL SURGEON
571- 2763757
Hospital & Doctors
Dr. Nitin Gupta

9897903477
Kunwar Nagar Colony Kamalpur bye pass road, Aligarh, 202001 (U.P)
8868807648
Hospital & Doctors
Dr.Ravi Jain
CLINIC 1 : Kamlesh Hospital,Premier Nagar, Bank Colony, Aligarh 202001 U.P CLINIC 2 : Ganpati Plaza
MY DENTIST (A Multispeciality Clinic & Implant Centre) which also gives the facilities of Ultra Sonic Scaling & Polishing,Tooth Colored Filling,Root Canal Treatment,Oral Implants,Crown &
571 2417057
Hospital & Doctors
Dr. Tanmay Shekhar & Dr. Rupali Shekhar

9045305169, 9045305170
Sasni Gate, Agra Road, Aligarh, 202001
Lap Chole, PCNL, URS, CLT, TURP, VIU, TURBT, VH, LAVH, NDVH, LAPROSCOPY AND HISTROSCOPY, NORMAL DELIVERY AND CIGERIAN DELIVERY, HERNIA, APPENDIX, COMPUTERIZED FRACTURE CHECKUP AND OPERATIONS.
+91 9458402338
Hospital & Doctors
Dr. (Major) Gaurav

+91 9458402338
Mahavir Complex, Center Point, Station Road, Aligarh - 202001, U.P, India
Consultant Dental Surgeon