---
Dr.Agarwal is an expert in Physiotherapy & Pain.
---
571 2407560
Hospital & Doctors
Dr. Ashok Kumar

9837051651
Gandhi Park Chauraha, Near Old Roadways Bus Stand, Agra Road, Aligarh 202001
SPECIALTIES: Histo Pathology, Cytology/Fnac, Microbiology, Immuno Assay, Biochemistry, Elisa
8979298092
Hospital & Doctors
Dr. Khan Wasique
17-19 Muzammil Complex, Dodhpur, Aligarh 202001
Child Care and Vaccination Clinic
9756796798
Hospital & Doctors
Dr. Jai Vardan Varshney
Misri lal Bhawan, Near Madar Gate State bank Agra road , Aligarh
Dermatologist, Cosmetic Surgery, Hair loss, Dandruff
9917245373
Hospital & Doctors
Mr. J.P Sharma

9891908619
1/28, J/361, Gali No.2 Govind Nagar, Sanjay Gandhi Colony, Aligarh, 202001 (U.P) - INDIA
A.K MEDICAL SYSTEM is a complete service centre of Medical Equipments (Medical Surgical Physiotheraphy)based in Aligarh.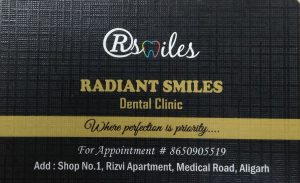 8650905519
Hospital & Doctors
Dr.Arina Arif (B.D.S.,M.D.S.) Root Canal Specialist

8650905519
Shop No.1,Rizvi Apartment,Medical Road,Aligarh
Dr.Arina Arif Is an Endodontics (Master in Root Canal Treatment) *Tooth Color Fillings *Pedocare *Braces *Crown Frame Works *Veneers *Root Canal Treatment *Dental Implants *Denture *Bleaching
571 2421421
Hospital & Doctors
Dr. G.P Varshney (Surgeon) M.B.B.S, M.S

9837156291
Chauraha Masoodabad, G.T Road, Aligarh 202001 (U.P)
CONULTANT, GENERAL SURGEON
Hospital & Doctors

+91 9837227670
Indrapratha Estate, Close to KK Hospital, Ramghat Road, Aligarh - 202001, U.P, India
Laser Therapy, Laser For Hair Removal, Eyelid Correction, Thick Lips Correction, Liposuction, Hair Transplant
0571- 2402696
Hospital & Doctors
Dr. Bharat k. Varshney ( M.B.B.S, MD, (pathology)

9927054048
Ramghat road, Aligarh
diagnostics, pathology, thyroid, health check up, blood
0571-645-0-645
Hospital & Doctors
Dr.N.B.Singh

92191-92191
V P Dental Implamt Centre: Infront Of Malkhan Singh District Hospital Second Gate,Rasal Ganj,Aligarh
Specialist In Dental Implant ( Fixed Tooth Direct Into Bone ) Root Canal, Crown & Briges.

0571 2262245,2262251
Hospital & Doctors
Vaid Gopal Sharan Garg

9319058696
Near Dena Bank,Shahkamal Road,Aligarh-202001
Expert In Chronic Dieses as Rhumetic Dieses. Stomach Problem,Diabetes,Renal Dieses,Skin Dieses (Psorises) Etc.