---
JMD DEFENCE ACADEMY provides Defence Classes, Bank Competition Classes and other Competition Classes in Aligarh. We have well trained teachers.
---
9319504298
Coaching Classes
Sir

9997792607
Arena Building, Laxmi bai road, Aligarh, 202001 (U.P)
Organon Classes was setup by Pramod Kumar (B.Tech – IIT Roorkee) and Naved Siddique (B.Tech – IIT Roorkee) with a focussed objective to enable students to succeed in academic through knowl
0571-2504299
Coaching Classes
Manager

8194059505
Near Hotel Palm Tree,Marris Road,Aligarh-202001
Class – Upto /Class Xth FEATURE:- Entrance- A.M.U./Sainik School And Others. Separate Urdu Classes. Support Staff For Helping In Doing Their Home Work.
9837137792
Coaching Classes
Mr. Vijay Jain
Next to Eden Garden Marriage, Ramghat Road, Aligarh, 202001 (U.P)
Classes for Physics for Class XI & XII
571-2404280
Coaching Classes
Richa Maheswari

+91 9756004000
1st Floor, Kulsum Arcade Station Road, Center Point
9897957184
Coaching Classes
Mrs. Ashvina Kwatra, Mr. Manish Kwatra

8057522989
Hariom Nagar, Near ICICI Bank, Marris Road, Aligarh, 202001
COMMERCE COMPETITIVE ACADEMY PROVIDES FINEST COACHING OF CA, CPT, IPC, CS FOUNDATION, CS INTERMEDIATE, CS FINAL, CWA FOUNDATION, B.COM, B.B.A, M.B.A, B.A, XI, X and Academic Classes. WE HAVE WELL QUAL
9765218443
Coaching Classes
Javed Ahmad

9639093050
Near Jamia Urdu, Medical Road, Farooq Apartment Basement (B1), Aligarh 202001
Autocad,revit architecture, 3d studio max, adobe photoshop, pro e, catia, primavera, staad pro, ms office
9808455907
Coaching Classes
N.S Verma

9548958247
613, Swarn Jyanti nagar, Open K.C Court, Ramghat Road, Aligarh, 202001 (U.P)
Math, Physics, Chemistry For Classes IX to XII U.P, CBSE, ICSE and AMU Board ITI, POLYTECHNIC ENTRANCE EXAM. We also provide B.TECH, BCA, BSC, (MATHS, PHYSICS, CHEMISTRY) & IIT ( OBJECTIVE MATHEM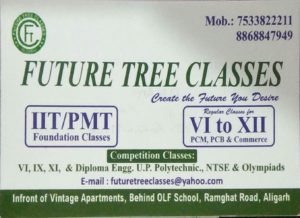 7533822211, 8868847949
Coaching Classes
Mr. Mansoor
Infront of Vintage Apartments, Behind OLF School, Ramghat Road, Aligarh-202001
FUTURE TREE CLASSES is a premier educational coaching centre in Aligarh. To ensure high standards to educate, enrich and excel, in imparting professional education, by top-quality-faculty, who endeavo
9258440635
Coaching Classes
Kavita Chaudhary

9286831838
Arya Samaj, Achal Tal, Aligarh, 202001 (U.P)
The Byte Computer Education provides one year Diploma in Computer Management, Diploma in accounting Management, Diploma in Office Management, Advance Diploma in Accounting, Desktop Publishing and othe
9758784461
Coaching Classes
Mr. Mukesh Kumar Singh & Mrs.Anjali Singh.

9045363856 & 9359775283
LIG-88 & MIG 118 Swarn Jyanti Nagar in front of bank of baroda,Ram ghat Road Aligarh.202001 U.P.
WISDOM COACHING CENTRE gives a Regular coaching classes for Xth to XII th and prepration for Police,Lekhpal bank,Railway,B.ed,SSC,U.P.TET,C-TET,+2,B.C.A & B,A and and other competetive classes fo