---
Music Classes, Guitar Classes
---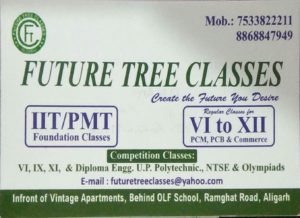 7533822211, 8868847949
Coaching Classes
Mr. Mansoor
Infront of Vintage Apartments, Behind OLF School, Ramghat Road, Aligarh-202001
FUTURE TREE CLASSES is a premier educational coaching centre in Aligarh. To ensure high standards to educate, enrich and excel, in imparting professional education, by top-quality-faculty, who endeavo
9319348395
Coaching Classes
Mr. Ataullah, Mr. SamadUllah

9897504112
Head Office: Amir Nisha, Dew Point, Aligarh, 202002 Branch Office: Hathi Wala Pul, Delhi gate, Aliga
Zeal Computer Point is an institute in Aligarh offering Computer Software & hardware Courses. English Speaking Course. We help candidates to take X and XII U.P Board exams.
9259176379
Coaching Classes
Mr. Manorma Gupta (Advisor)

8410628873
18/23 Pakki Sarai, Hathras Adda, Aligarh 202001
Insurance, AMWAY DISTT, Dance Coaching Classes
9412012571
Coaching Classes
Mr. Pradeep Kumar

9358066677
Laxmi bai Marg, Kishanpur Tiraha, Aligarh, 202001 (U.P)
Dronacharya Classes is a coaching for Academics & Competation. XIIth Pass, IIT JEE, MEDICAL, PMT, INDIVIDUAL SUBJECT ALLOWED, B.Tech. We also offer FREE DEMO CLASSES
8171984005
Coaching Classes
Dr. Manish Kumar Yadav, Mr. Pawan Singh

9045432996, 9897172738
Samadhan Classes, Opp. PK Sharma Eye Hospital, Near Kishanpur Tiraha, Ramghat Road, Aligarh, 202001
Samadhan Classes guide students of class XIth & XIIth Academic / Engineering, Medical Exams / NDA & Various Defense Entrances and all Board Exams. IIT & PMT Coaching.
9058430943
Coaching Classes
Virendra Yadav

7417460493
Ist Floor, Baba Market, Ramghat Road, Aligarh, 202001 (U.P)
Osnik Classes Mathematics based in Aligarh, provides regular Mathematics classes for XII and competition. We also provide Osnik employment and knowledge solution for Private Teachers and tutors.
9927526760
Coaching Classes
Mohd Amir

9927526760
New Eidgah Road , Shahjamal , Aligarh - 202001, U.P, India
9319656222, 9045362395
Coaching Classes
Mr. Dheeraj Chauhan
Ground Floor, Ganpati Plaza, Marris Road, Aligarh 202001 (U.P)
Spoken English, Abacus Classes, Smart Study Skills, personality Skills and Writing solutions. AGE LIMIT 6-16 Years
9808455907
Coaching Classes
N.S Verma

9548958247
613, Swarn Jyanti nagar, Open K.C Court, Ramghat Road, Aligarh, 202001 (U.P)
Math, Physics, Chemistry For Classes IX to XII U.P, CBSE, ICSE and AMU Board ITI, POLYTECHNIC ENTRANCE EXAM. We also provide B.TECH, BCA, BSC, (MATHS, PHYSICS, CHEMISTRY) & IIT ( OBJECTIVE MATHEM
9027691523
Coaching Classes
Mukesh Kumar Vimal
Opp. Natraj Mandir, Achal Tal, Aligarh, 202001 (U.P)
VCSM is a computer institute in Aligarh offering Short Term and Long term computer courses.. We offer: Computer Software, Hardware, Networking, Mobile repairing, English Speaking, C, C++, Java, Visual