---
Pratishtha IAS Academy is a well known academy in Aligarh. We help student for all subjects, Essay, G.S. etc.
---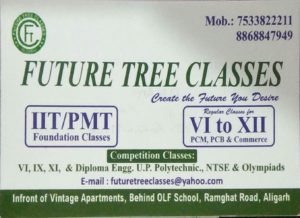 7533822211, 8868847949
Coaching Classes
Mr. Mansoor
Infront of Vintage Apartments, Behind OLF School, Ramghat Road, Aligarh-202001
FUTURE TREE CLASSES is a premier educational coaching centre in Aligarh. To ensure high standards to educate, enrich and excel, in imparting professional education, by top-quality-faculty, who endeavo
0571-2906231
Coaching Classes
Mr. Sumit Kumar (Director)

7417162373
Krishna Residency, Laknoo Compound, Marris Road, Aligarh 202001
ARTISTIC ANIMATION ACADEMY offers Artistic Specialization Program, Multi Media, Visual effects (VFX), Graphics, animation, 3D animation training, multimedia & animation film creation courses.
9258815303
Coaching Classes
Mr. Tayyab Bin Arif & Mr. Mirza Shariq Baig

904567937
4/16A, Near Kabir Colony, Anoopshahar Road, Jamalpur, Aligarh, U.P 202001
Al – Sahara Institute of Learning is a Coaching for XI, XII (Regular & Competition) as wells as Coaching for Civil,Elect.,Mech in Aligarh. Redg:-239 Estd:- 01/07/2011
9756399884
Coaching Classes
Mr. D.K Singh (Managing Director),

7895775995
Arya Nagar Colony, Near Man Sarovar, Ramghat Road, Aligarh, 202001 (U.P)
JMD DEFENCE ACADEMY provides Defence Classes, Bank Competition Classes and other Competition Classes in Aligarh. We have well trained teachers.
Coaching Classes
Mr. Dheeraj Sharma

+91 9219598997
236, Avas Vikas Colony, Jail Road, Aligarh - 202001, U.P, India
2 Years Diploma Courses are available for Girls.
9765218443
Coaching Classes
Javed Ahmad

9639093050
Near Jamia Urdu, Medical Road, Farooq Apartment Basement (B1), Aligarh 202001
Autocad,revit architecture, 3d studio max, adobe photoshop, pro e, catia, primavera, staad pro, ms office
9997929115
Coaching Classes
MR. Nadeem Ahmad

9690385019
Noor Manzil, Civil Lines, Dodhpur Aligarh U.P 202001
Nadeem Coaching & Guidance Centre is famous study centre in Aligarh. Which offers prepration courses like PMT, IIT, JEE, Science & Maths, Classes for XI & XIIth regular classes as well
9219418880
Coaching Classes
Councellor

9997394458
LGF, Venus Tower, Opp. Jamia Urdu, Medical Road, Aligarh 202001
Sarwar Classes is a well known Coaching & Training Institute of IIT-JEE, PMT based in Aligarh
9756543210,9837476084
Coaching Classes
Mr. Sanjay Chauhan
Laxmi Bai Marg,Opp Saubhagya Mandap,Near Kishanpur Tiraha, Aligarh, 202001, (U.P)
In AIEL Aligarh, we the professionals are commited to bringing excellence in making English a simple spoken language for every day use
Coaching Classes
Manager

+91 9808344320
Ist Floor above punjab national bank, medical road, aligarh
JEE (Mains)/ IIT (advanced)/ NEET , AMU Entrance – XI / DIP / PMT / Btech