---
Pratishtha IAS Academy is a well known academy in Aligarh. We help student for all subjects, Essay, G.S. etc.
---
0571-2504299
Coaching Classes
Manager

8194059505
Near Hotel Palm Tree,Marris Road,Aligarh-202001
Class – Upto /Class Xth FEATURE:- Entrance- A.M.U./Sainik School And Others. Separate Urdu Classes. Support Staff For Helping In Doing Their Home Work.
9415415510
Coaching Classes
Mr.Kafeel Khan(M.D.)

7905008987
Medical Road,Opp Ishaq Gas Agency,Blassed Public School,Shaukat Manzil,Aligarh
A.M.U. LAW,B.A.,B.Com,10+2,(Sci,Com) CLAT 1 Year Program, CLAT 2 Year Program, CRASH COURSE ALSO AVAILABLE,
9837052466
Coaching Classes
Mr. Rajeev Kumar Varshney

9045501383
Near Police Chowki, Raghuveer Puri, Aligarh, 202001
Rajeev and Party is a very popular name in Aligarh and is famous for Dance Classes, Singing Classes, Instrument Classes.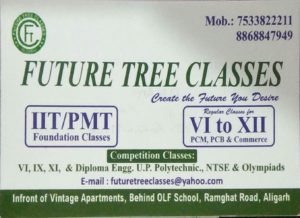 7533822211, 8868847949
Coaching Classes
Mr. Mansoor
Infront of Vintage Apartments, Behind OLF School, Ramghat Road, Aligarh-202001
FUTURE TREE CLASSES is a premier educational coaching centre in Aligarh. To ensure high standards to educate, enrich and excel, in imparting professional education, by top-quality-faculty, who endeavo
9997929115
Coaching Classes
MR. Nadeem Ahmad

9690385019
Noor Manzil, Civil Lines, Dodhpur Aligarh U.P 202001
Nadeem Coaching & Guidance Centre is famous study centre in Aligarh. Which offers prepration courses like PMT, IIT, JEE, Science & Maths, Classes for XI & XIIth regular classes as well
0571-2906231
Coaching Classes
Mr. Sumit Kumar (Director)

7417162373
Krishna Residency, Laknoo Compound, Marris Road, Aligarh 202001
ARTISTIC ANIMATION ACADEMY offers Artistic Specialization Program, Multi Media, Visual effects (VFX), Graphics, animation, 3D animation training, multimedia & animation film creation courses.
9027691523
Coaching Classes
Mukesh Kumar Vimal
Opp. Natraj Mandir, Achal Tal, Aligarh, 202001 (U.P)
VCSM is a computer institute in Aligarh offering Short Term and Long term computer courses.. We offer: Computer Software, Hardware, Networking, Mobile repairing, English Speaking, C, C++, Java, Visual
9897893031
Coaching Classes
Rita kaul Kuchroo

9897094561
Square Tower, Ground Floor, Marris Road Chauraha, Aligarh
EXCLUSIVE SUMMER PACKAGE FOR SCHOOL CHILDREN.
9319656222, 9045362395
Coaching Classes
Mr. Dheeraj Chauhan
Ground Floor, Ganpati Plaza, Marris Road, Aligarh 202001 (U.P)
Spoken English, Abacus Classes, Smart Study Skills, personality Skills and Writing solutions. AGE LIMIT 6-16 Years
9319348395
Coaching Classes
Mr. Ataullah, Mr. SamadUllah

9897504112
Head Office: Amir Nisha, Dew Point, Aligarh, 202002 Branch Office: Hathi Wala Pul, Delhi gate, Aliga
Zeal Computer Point is an institute in Aligarh offering Computer Software & hardware Courses. English Speaking Course. We help candidates to take X and XII U.P Board exams.