---
English Coaching Classes in Aligarh
---
9457391336
Coaching Classes
Mr. Abdullah Sir
Shadman Colony, Near Abdullah Girls College, Aligarh Centre 2: HIG-60, Avantika Phase I, ADA Colony,
Get Commerce Classes by our Experts.
9219418880
Coaching Classes
Councellor

9997394458
LGF, Venus Tower, Opp. Jamia Urdu, Medical Road, Aligarh 202001
Sarwar Classes is a well known Coaching & Training Institute of IIT-JEE, PMT based in Aligarh
9927526760
Coaching Classes
Mohd Amir

9927526760
New Eidgah Road , Shahjamal , Aligarh - 202001, U.P, India
9457357311
Coaching Classes
D.R (SIR)

9759402827
Kumar Plaza IInd Floor, Ramghat Road, Aligarh, 202001
Pratishtha IAS Academy is a well known academy in Aligarh. We help student for all subjects, Essay, G.S. etc.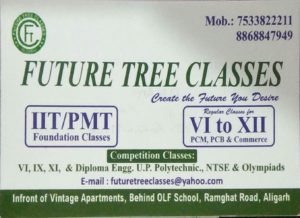 7533822211, 8868847949
Coaching Classes
Mr. Mansoor
Infront of Vintage Apartments, Behind OLF School, Ramghat Road, Aligarh-202001
FUTURE TREE CLASSES is a premier educational coaching centre in Aligarh. To ensure high standards to educate, enrich and excel, in imparting professional education, by top-quality-faculty, who endeavo
0571-2906231
Coaching Classes
Mr. Sumit Kumar (Director)

7417162373
Krishna Residency, Laknoo Compound, Marris Road, Aligarh 202001
ARTISTIC ANIMATION ACADEMY offers Artistic Specialization Program, Multi Media, Visual effects (VFX), Graphics, animation, 3D animation training, multimedia & animation film creation courses.
9058430943
Coaching Classes
Virendra Yadav

7417460493
Ist Floor, Baba Market, Ramghat Road, Aligarh, 202001 (U.P)
Osnik Classes Mathematics based in Aligarh, provides regular Mathematics classes for XII and competition. We also provide Osnik employment and knowledge solution for Private Teachers and tutors.
Coaching Classes
Mr. Dheeraj Sharma

+91 9219598997
236, Avas Vikas Colony, Jail Road, Aligarh - 202001, U.P, India
2 Years Diploma Courses are available for Girls.
0571-2504299
Coaching Classes
Manager

8194059505
Near Hotel Palm Tree,Marris Road,Aligarh-202001
Class – Upto /Class Xth FEATURE:- Entrance- A.M.U./Sainik School And Others. Separate Urdu Classes. Support Staff For Helping In Doing Their Home Work.
571 3203828
Coaching Classes
Mr. Sudhir
Kishan Pur Tiraha, Ramghat Road, Aligarh 202001
Coaching Classes for XI Entrance Exams, PMT, Engineering Classes.