---
---
9286505214
Hospital & Doctors
Dr. Dietitian Zareen Kazmi
Kamthania Builidng, Opp. Sobhagya Mandap, Laxmi Bai Marg, Ramghat Road, Aligarh, 202001 (U.P)
Rannz Diet Clinic helps in Diet Treatment for all types of Diseases, Diabetic, Obesity, Osteoporosis, Hypertension.
+91-571-2509468
Hospital & Doctors
Rajat Pratap Singh

+91 9927032740
Opp. Gandhi Eye Hospital, Ramghat Road, Aligarh
An ISO 9001:2008 Certified Dental Care Center.
9412593871
Hospital & Doctors
VIRENDRA KUMAR
Vaishno Dham Colony, Near Singhal Dharam Kaanta, Near Chauraha, Etah Chungi, G.T Road, Aligarh-20200
Piles and Fistula Specialist ( B.sc, B.A.M.S, H.H.C.)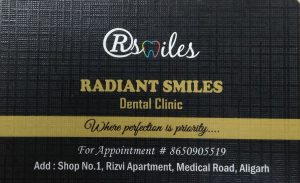 8650905519
Hospital & Doctors
Dr.Arina Arif (B.D.S.,M.D.S.) Root Canal Specialist

8650905519
Shop No.1,Rizvi Apartment,Medical Road,Aligarh
Dr.Arina Arif Is an Endodontics (Master in Root Canal Treatment) *Tooth Color Fillings *Pedocare *Braces *Crown Frame Works *Veneers *Root Canal Treatment *Dental Implants *Denture *Bleaching
8868807648
Hospital & Doctors
Dr.Ravi Jain
CLINIC 1 : Kamlesh Hospital,Premier Nagar, Bank Colony, Aligarh 202001 U.P CLINIC 2 : Ganpati Plaza
MY DENTIST (A Multispeciality Clinic & Implant Centre) which also gives the facilities of Ultra Sonic Scaling & Polishing,Tooth Colored Filling,Root Canal Treatment,Oral Implants,Crown &
+91 9458402338
Hospital & Doctors
Dr. (Major) Gaurav

+91 9458402338
Mahavir Complex, Center Point, Station Road, Aligarh - 202001, U.P, India
Consultant Dental Surgeon
9756796798
Hospital & Doctors
Dr. Jai Vardan Varshney
Misri lal Bhawan, Near Madar Gate State bank Agra road , Aligarh
Dermatologist, Cosmetic Surgery, Hair loss, Dandruff
571 2417057
Hospital & Doctors
Dr. Tanmay Shekhar & Dr. Rupali Shekhar

9045305169, 9045305170
Sasni Gate, Agra Road, Aligarh, 202001
Lap Chole, PCNL, URS, CLT, TURP, VIU, TURBT, VH, LAVH, NDVH, LAPROSCOPY AND HISTROSCOPY, NORMAL DELIVERY AND CIGERIAN DELIVERY, HERNIA, APPENDIX, COMPUTERIZED FRACTURE CHECKUP AND OPERATIONS.
Hospital & Doctors

+91 9837227670
Indrapratha Estate, Close to KK Hospital, Ramghat Road, Aligarh - 202001, U.P, India
Laser Therapy, Laser For Hair Removal, Eyelid Correction, Thick Lips Correction, Liposuction, Hair Transplant
0571- 2402695
Hospital & Doctors
Dr. Bharat k. Varshney ( M.B.B.S, MD, (pathology)

9927054047
Manik Chowk, Near Dainik Jagran Press, Agra Road, Aligarh - 202001 (U.P)
Diagnostics, Pathology, Thyroid, Health Check Up, Blood